(Link to dedicated wiki)

 

Line 27:
Line 27:
 
 
 

==External Links==

 

==External Links==

 
+
−

*[http://www.iain-banks.net/ Official Website]

 
−

*[http://www.imdb.com/name/nm0052169/ Iain Banks at IMBd]

+

*[http://www../ ]

 
+

* [http://www.imdb.com/name/nm0052169/ Iain Banks at IMBd]

 
+

* [[w:c:theculture:The Culture Wiki|The Culture Fandom wiki]]

 
+
 

[[Category:Writers]]

 

[[Category:Writers]]

 

[[Category:Culture Series]]

 

[[Category:Culture Series]]
---
Latest revision as of 04:13, 3 June 2022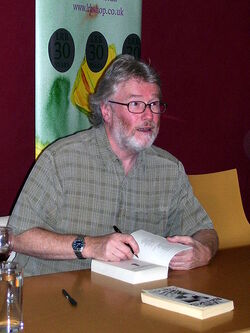 Iain M. Banks (born on 16 February 1954) is a Scottish writer. He writes mainstream fiction under the name Iain Banks, and science fiction as Iain M. Banks, including the initial of his adopted middle name Menzies.
Following the publication and success of The Wasp Factory (1984), Banks began to write on a full-time basis. His first science fiction book, Consider Phlebas, was released in 1987, marking the start of the popular Culture Series series. His books have also been adapted for theatre, radio and television.
Science fiction as Iain M. Banks[]
Novels[]
The Culture series[]
1987 – Consider Phlebas
1988 – The Player of Games
1990 – Use of Weapons
1996 – Excession
1998 – Inversions
2000 – Look to Windward
2008 – Matter
2010 – Surface Detail
2012 – The Hydrogen Sonata
Other novels[]
1993 – Against a Dark Background
1994 – Feersum Endjinn
2004 – The Algebraist
Short fiction collections[]
The State of the Art (1991)
Includes three short works set in the Culture universe. It also includes works of fiction more characteristic of Banks's writing published as Iain Banks.
External Links[]