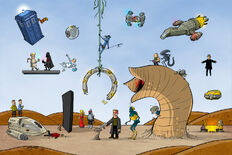 WikiSciFi is about anything involving science fiction. Science fiction is a genre of speculative fiction, typically dealing with imaginative concepts such as futuristic science and technology, space travel, time travel, faster than light travel, parallel universes, and extraterrestrial life.
Articles on novels, television shows, films, computer games, etc, are all welcome.
Please help us out by creating a new article here:

To write a new WikiSciFi article, enter the title in the box above. Be sure that the article doesn't already exist under a different title, that the article's title is spelled correctly, and don't forget to add at least one category.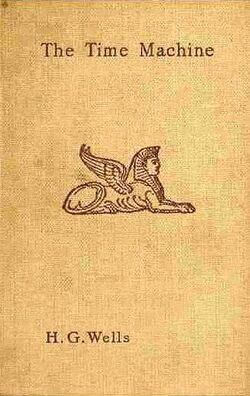 The Time Machine is a science fiction novel by H. G. Wells, published in 1895. Wells is generally credited with the popularization of the concept of time travel by using a vehicle that allows an operator to travel purposely and selectively forwards or backwards in time. The term "time machine", coined by Wells, is now almost universally used to refer to such a vehicle.
The Time Machine has since been adapted into three feature films of the same name, as well as two television versions, and a large number of comic book adaptations. It has also indirectly inspired many more works of fiction in many media.
The story revolves around a man known only as The Time Traveller, an inventor who has created a time machine. He uses it to travel into the far future, where he encounters beings known as Morlocks and Eloi, who are two species evolved from Humans.
Wells had considered the notion of time travel before, in a short story titled "The Chronic Argonauts" (1888). This work, published in his college newspaper, was the foundation for The Time Machine.
"Individual science fiction stories may seem as trivial as ever to the blinder critics and philosophers of today - but the core of science fiction, its essence, the concept around which it revolves, has become crucial to our salvation if we are to be saved at all."
-Isaac Asimov
Other Science Fiction Wikis