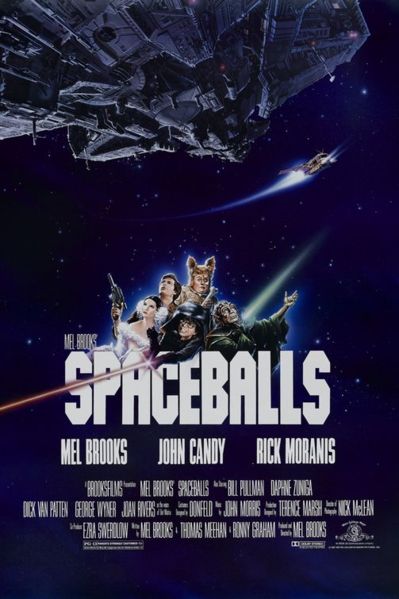 Once upon a time warp in deep space, the struggle between the nice & the rotten goes on...
Written By
Mel Brooks, Thomas Meehan, Ronny Graham
Cast
Mel Brooks, John Candy, Rick Moranis, Bill Pullman, Daphne Zunga, Dick Van Patten, George Wyner, Joan Rivers, Robert Wagner
Produced By
Mel Brooks, Ezra Swerdlow
Film Editing By
Conrad Buff IV
Cinematography By
Nick McLean
Original Music By
John Morris
Studio
MGM Studios, Brooksfilm
Country
United States of America
Release Date
26 June 1987 (USA)
Filming Location
Imperial County, California, USA
Budget
$22,700,000 (estimated)

Spaceballs is a 1987 science fiction parody film, primarily spoofing the popular Star Wars movies. It was directed by Mel Brooks, and released to the cinemas in the USA on 24 June 1987.[1]
Plot
[
]
Due to planet Spaceball running out of air, a scheme is planned for their spacecraft, the Spaceball One, to steal all the air from planet Druidia.
As luck would have it with the Spaceballs, the planet Druidia daughter of King Roland (Princess Vespa) flees her wedding with Prince Valium and is captured by the evil Spaceballs. Meanwhile, rogue pilot Lone Starr, with his sidekick Barf, owe gangster Pizza the Hutt a large amount of money, which they negotiate a deal with King Roland to rescue Princess Vespa from the Spaceballs. All sorts of mishaps result afterwards once Lone Starr runs out of fuel and gets chased by the Spaceballs and head villain Dark Helmet.
Cast
[
]
Mel Brooks

--

President Skroob

/

Yogurt

John Candy

--

Barf

Rick Moranis

--

Dark Helmet

Bill Pullman

--

Lone Starr

Daphne Zuniga

-- Princess Vespa

Dick Van Patten

--

King Roland

George Wyner

--

Colonel Sandurz

Joan Rivers

--

Dot Matrix

(voice)

Lorene Yarnell

--

Dot Matrix

Robert Wagner

--

Robert Wagner
Parodies
[
]
Spaceballs is a parody of science fiction, focusing primarily on the popular Star Wars movies, but also took ideas from...
Influences
[
]
Legacy
[
]
Mel Brooks had said he was planning on doing a Spaceballs prequel, but as of 2011, this project has still yet to emerge. A short-lived series of Spaceballs: The Animated Series was created though, but only lasted one season.
Pictures
[
]
References
[
]
External links
[
]