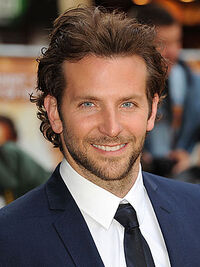 This just in, science-fiction fans! Wikia has an exciting new announcement from the Syfy channel.
Syfy announced today it is teaming with Oscar-nominated producer Bradley Cooper (American Sniper), Oscar-winning producer Graham King (The Departed, Argo) and Todd Phillips (The Hangover, Old School) to develop Dan Simmons' Hugo Award-winning best-selling novel Hyperion as an event series.
Cooper will executive produce along with King and Phillips. Itamar Moses (Boardwalk Empire) will write the screenplay and serve as co-executive producer.
Set on the eve of Armageddon with the entire galaxy at war, Hyperion is the story of seven pilgrims who set forth on a voyage to seek the answers to the unsolved riddles of their lives. Each carries a desperate hope and a terrible secret -- while one may hold the fate of humanity in his hands.
Hyperion is the latest high profile scripted project to be announced by Syfy; others include the recently-announced series pickup of The Magicians, based on Lev Grossman's best-selling books; the 10-part series The Expanse, airing December 2015 and starring Thomas Jane; Arthur C. Clarke's epic mini-series Childhood's End, also set to premiere this December; Aldous Huxley's classic novel Brave New World with Amblin Television; Gale Anne Hurd's 13-episode thriller Hunters; David Goyer's Superman prequel, Krypton; and Incorporated, a futuristic espionage drama from Matt Damon and Ben Affleck.