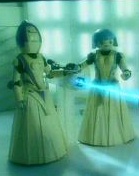 Zu-Zana was a gynoid based after Susannah Constantine, co-host of the show "What Not To Wear".
Zu-Zana was the co-host of a deadly version of the show on Satellite Five. She worked with Trine-e and like Trine-e, her hands could be removed and replaced with cutting tools.
Zu-Zana was destroyed by Jack Harkness.